DRB-630-3010/6
Electro Hydraulic Drum brake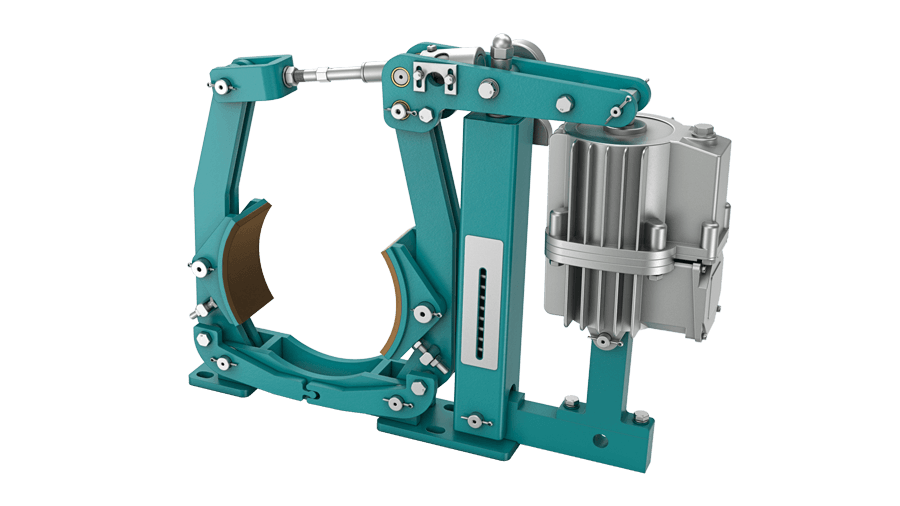 According to DIN 15435 Standards
Braking Torque: 80 Nm up to 9600 Nm
Max Speed: 50 m/s
Spring application with Thrustor release
AWA Automatic lining wear adjustment
Lifting eyes for safe handling and fitting
Self-centring
Self-lubricating bushes
Standard Voltage 230/400V, 50Hz, IP65, Class F
Aluminium brake shoes with bushes
Brake release opening/closing sensors
Lining wear indicators
Manual release lever
Special Voltage
Inner spring
Low temperature -40°C
High temperature Resistant steel work +70°C
Ascending / Descending Valve
Customized painting colour
Conservation coating
Thrustor limit stroke sensor
---
Electro-hydraulic drum brakes
MDB electro-hydraulic drum brakes are spring applied and have electro hydraulic thrusters. Our drum brakes have standard automatic wear compensation (AWA) to ensure a constant torque regardless of the wear of the brake lining pads. The MDB Electro-hydraulic drum can integrate many other options and is designed to meet the applicable standard DIN 15435.
The brake pads are manufactured of non-asbestos organic material. The MDB Electro-hydraulic drum brakes are appropriate for safe use in applications including cranes, conveyors, metal extraction, mines, ports, construction machinery.
Position switches and sensors are some of the numerous features and additions to be applied.
---